Last Updated January 26, 2023
Rescue Stats 2023
cats spayed/neutered
+ cats via our trap loan program
cats adopted

Rescue Stats 2022
260 cats spayed/neutered
+ 125 cats via our trap loan program
263 cats adopted

Rescue Stats 2021
cats 313 spayed/neutered
+ 222 cats via our trap loan program
266 cats adopted

Rescue Stats 2020
420 cats spayed/neutered
+ 333 cats via our trap loan program
344 cats adopted

Rescue Stats 2019
272 cats spayed/neutered
+ 376 cats via our trap loan program
381 adopted

Rescue Stats 2018
254 cats spayed/neutered
+ 107 cats via our trap loan program
224 cats adopted

Rescue Stats 2017
291 cats spayed/neutered
+ 125 cats via our trap loan program
392 cats adopted
Rescue Stats 2016
260 cats spayed/neutered
+ 130 cats via our trap loan program
341 cats adopted
Rescue Stats 2015
344 cats spayed/neutered
+48 via our trap loan program
249 cats adopted
Rescue Stats 2014
176 cats spayed/neutered
+ 68 via our trap loan program
194 cats adopted
Rescue Stats 2013
233 cats spayed/neutered
+ 95 via our trap loan program
222 cats adopted
Rescue Stats 2012
260 cats spayed/neutered
202 cats adopted
Rescue Stats 2011
244 cats spayed/neutered
198 cats adopted
Rescue Stats 2010
306 cats spayed/neutered
216 cats adopted
Rescue Stats 2009
421 cats spayed/neutered
232 cats adopted
Rescue Stats 2008
350 cats spayed/neutered
200 cats adopted
Rescue Stats 2007
226 cats spayed/neutered
149 cats adopted
Rescue Stats 2006
126 cats spayed/neutered
56 cats adopted
13th Street Cat Rescue
We are a Non-Profit 501(c)(3), No-Kill, Cat and Kitten Rescue Organization - San Jose, California
Mars' Web Page
Domestic Short Hair / Mixed (short coat) : : Male (neutered) : : Baby : : Small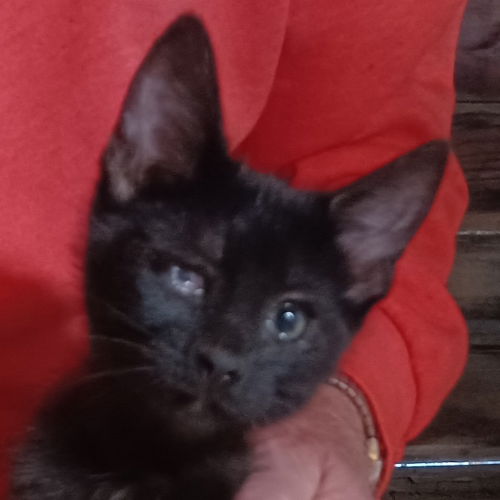 Contact Mars' Caretaker/Foster Directly: Janice (janice.frazier@sbcglobal.net)
He's the smallest of the litter, but big character!
About Mars

Status: Available for Adoption (adoption info)
Species: Cat
General Color: Black
Color: Black / Solid
Current Age: 5 Months 3 Days (best estimate)

Microchipped: Yes
Declawed: No
Housetrained: Yes
Mars is a very outgoing kitty, and he is so adorable with his toys. He will capture a toy and run away from his siblings. He carries the toy around in his mouth and growls to make sure all know this toy is his prize! Mars is very affectionate and loves to have his belly rubbed, and enjoys being held and cuddled too.
The whole litter are all very active kitties, so we think it would be nice to have them with another kitty in the home, and even with a sibling (Saturn and Mercury are Mars' brothers).
All three go crazy for the laser pointer, which can keep them entertained and running around for hours. And wrestling is a fun activity as well look at the video with Saturn in the kitty condo.
More about Mars
Good with Cats, Good with Kids
---
To Adopt one of our Cats or Kittens,
please fill out an Online Adoption Application on our website
https://www.13thstcats.org/info/adoption

If the animal bio says that they are a "Courtesy Listing",
the contact information will be included in the animal bio for you to reach out to them directly.

Thank you for wanting to Adopt!

--------------

13thstcats.org is a 501(c)(3) Non-Profit, No-Kill Rescue Group based in San Jose.

We try our best to match our cats to the perfect homes, and match them based on their personalities, not their looks. Adoptions are not done on a first come, first serve basis, rather in the order of what homes are the right match for that particular cat
---
Videos of Mars: