Last Updated March 6, 2023
Rescue Stats 2023
cats spayed/neutered
+ cats via our trap loan program
cats adopted

Rescue Stats 2022
281 cats spayed/neutered
+ 165 cats via our trap loan program
273 cats adopted

Rescue Stats 2021
cats 313 spayed/neutered
+ 222 cats via our trap loan program
266 cats adopted

Rescue Stats 2020
420 cats spayed/neutered
+ 333 cats via our trap loan program
344 cats adopted

Rescue Stats 2019
272 cats spayed/neutered
+ 376 cats via our trap loan program
381 adopted

Rescue Stats 2018
254 cats spayed/neutered
+ 107 cats via our trap loan program
224 cats adopted

Rescue Stats 2017
291 cats spayed/neutered
+ 125 cats via our trap loan program
392 cats adopted
Rescue Stats 2016
260 cats spayed/neutered
+ 130 cats via our trap loan program
341 cats adopted
Rescue Stats 2015
344 cats spayed/neutered
+48 via our trap loan program
249 cats adopted
Rescue Stats 2014
176 cats spayed/neutered
+ 68 via our trap loan program
194 cats adopted
Rescue Stats 2013
233 cats spayed/neutered
+ 95 via our trap loan program
222 cats adopted
Rescue Stats 2012
260 cats spayed/neutered
202 cats adopted
Rescue Stats 2011
244 cats spayed/neutered
198 cats adopted
Rescue Stats 2010
306 cats spayed/neutered
216 cats adopted
Rescue Stats 2009
421 cats spayed/neutered
232 cats adopted
Rescue Stats 2008
350 cats spayed/neutered
200 cats adopted
Rescue Stats 2007
226 cats spayed/neutered
149 cats adopted
Rescue Stats 2006
126 cats spayed/neutered
56 cats adopted
13th Street Cat Rescue
We are a Non-Profit 501(c)(3), No-Kill, Cat and Kitten Rescue Organization - San Jose, California
princess' Web Page
Domestic Short Hair : : Female : : Baby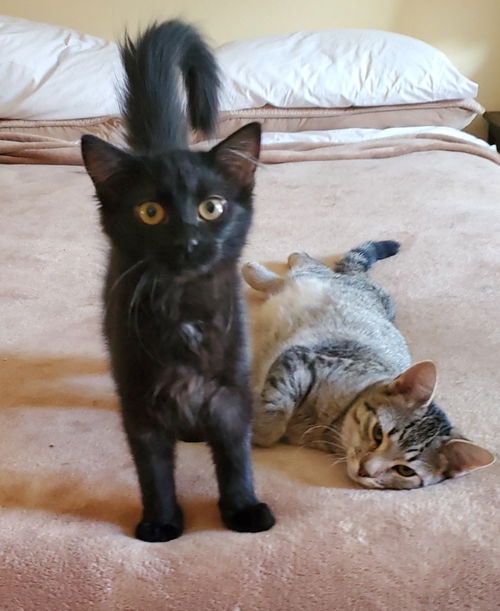 Please Note: This animal is listed as a courtesy to another organization. Please be sure to contact the foster/caretaker for more information about her.
About princess

Status: Available for Adoption
Species: Cat
General Color: Black (Mostly)
Current Age: 7 Months (best estimate)

Location: courtesy listing pet see bio
Declawed: No
Housetrained: Yes
THIS animal listing is a COURTESY LISTING - not a 13th St Cat Rescue animal.
See information about whom to contact in bio THANK YOU
Princess 'The Black Beauty touched by an Angel'

Oh my such a frisky little gal! Energy plus for this highly playful five-month-old princess! This 4-pound kitten has a stunning little white puff of fur on her chest; touched by an angel! Both shy and active; ready for her indoor forever home. Great mama's girl kitten. She has been fixed, first vaccinations, and treated for fleas and worms. Very healthy from a diet of Purina One Cat Chow and Fancy Feast Fish Pate.


Contact Lisa
408 599-4201
Call or Text
PS... her brother Freddy is also ready for adoption, see photo.