Last Updated March 6, 2023
Rescue Stats 2023
cats spayed/neutered
+ cats via our trap loan program
cats adopted

Rescue Stats 2022
260 cats spayed/neutered
+ 154 cats via our trap loan program
263 cats adopted

Rescue Stats 2021
cats 313 spayed/neutered
+ 222 cats via our trap loan program
266 cats adopted

Rescue Stats 2020
420 cats spayed/neutered
+ 333 cats via our trap loan program
344 cats adopted

Rescue Stats 2019
272 cats spayed/neutered
+ 376 cats via our trap loan program
381 adopted

Rescue Stats 2018
254 cats spayed/neutered
+ 107 cats via our trap loan program
224 cats adopted

Rescue Stats 2017
291 cats spayed/neutered
+ 125 cats via our trap loan program
392 cats adopted
Rescue Stats 2016
260 cats spayed/neutered
+ 130 cats via our trap loan program
341 cats adopted
Rescue Stats 2015
344 cats spayed/neutered
+48 via our trap loan program
249 cats adopted
Rescue Stats 2014
176 cats spayed/neutered
+ 68 via our trap loan program
194 cats adopted
Rescue Stats 2013
233 cats spayed/neutered
+ 95 via our trap loan program
222 cats adopted
Rescue Stats 2012
260 cats spayed/neutered
202 cats adopted
Rescue Stats 2011
244 cats spayed/neutered
198 cats adopted
Rescue Stats 2010
306 cats spayed/neutered
216 cats adopted
Rescue Stats 2009
421 cats spayed/neutered
232 cats adopted
Rescue Stats 2008
350 cats spayed/neutered
200 cats adopted
Rescue Stats 2007
226 cats spayed/neutered
149 cats adopted
Rescue Stats 2006
126 cats spayed/neutered
56 cats adopted
13th Street Cat Rescue
We are a Non-Profit 501(c)(3), No-Kill, Cat and Kitten Rescue Organization - San Jose, California
Oliver's Web Page
Tabby : : Adult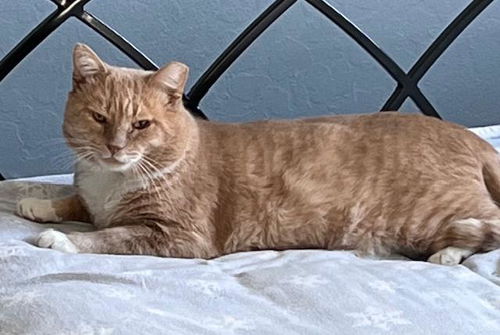 Please Note: This animal is listed as a courtesy to another organization. Please be sure to contact the foster/caretaker for more information about him/her.
Sweet Oliver - affectionately call Ollie Bear
About Oliver

Status: Available for Adoption
Species: Cat
General Color: Orange
Current Age: 3 Years 1 Month (best estimate)

Location: courtesy listing pet see bio
Declawed: No
Housetrained: Yes
THIS animal listing is a COURTESY LISTING - not a 13th St Cat Rescue animal.
See information about whom to contact in bio THANK YOU
Ollie is one chill dude and he is agreeable and super sweet with ALL of my existing cats and even the fiesty, rambunctious foster kitties! Every single one of them. Nothing seems to faze him, so I think he's be just fine with a dog. Honestly, probably wouldn't even give a hoot.
He loves food, treats, cheek rubs and comfy spots!
Put simply, Ollie is a big ol' sweet chubby Teddy Bear.
Oliver, who I affectionately call Ollie Bear, deserve the long heathy life that his last (uneducated) owner tried the cut short (he is an FIV+ cat) , which is really no big deal, contact me and we can discuss.
He available for Adoption and Meet & Greets.
Contact: denisebythesea@icloud.com; 408-410-5268 to adopt.
More about Oliver
Good with Dogs, Good with Cats, Good with Kids